Posted on
November 14th, 2019 at 9:13 am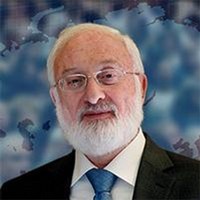 Michael Laitman, On Quora: "How should the Israel-Palestinian conflict be solved?"
The solution to the Israeli-Palestinian conflict is in the people of Israel's hands.
In order to understand how Israel holds the solution, we need to understand who are the people of Israel, what is their role in the world, and how the world responds to Israel in relation to the fulfillment or lack of fulfillment, of their role.
The nation of Israel was founded as a group who gathered from all parts of ancient Babylon under a common unifying concept: "love your neighbor as yourself." Since this nation was based on an ideological foundation, not a biological one, then the world feels it as a strange phenomenon.
As the nation of Israel once attained unity above the growing divisions in ancient Babylon, so it is today: there is a subconscious expectation from the nations of the world toward Israel that they usher in the same positive force of love and connection that they once attained, and pioneer an example of a new society led by values of love, unity, mutual support and consideration. The more human society feels torn apart by division and hatred, the more it feels the people of Israel responsible for the world's misfortunes.
Therefore, Palestine is only one of many characters frowning at Israel. Accordingly, Israel needs to respond to all of its enemies the only way it ultimately knows how to: by turning to its long-ignored power of unity.
First, the people of Israel need to understand that beneath all the surface reasons the world points out its hatred to us, whether it be oppression of Palestinians or too much power in countries we have assimilated into, there is fundamentally a much more significant and subconscious demand upon us.
It is a demand for our unity.
Neither Jews nor non-Jews know about it, because it is an ideological foundation that was lost around 3,800 years ago, and while we were all born and raised through a range of egoistic desires, we have no idea what it means to live in a unified state. Since we lack any feeling or experience of the kind of unity that our ancestors once attained, then we feel no lack for unity like we feel no lack for a sixth finger on our hand. We simply fail to see that if we unite, we will solve not only the Israeli-Palestinian conflict, but our unity will have a positive rippling effect throughout humanity, solving myriad other problems too.
The people of Israel have no ears for this message. Those who understand it, Kabbalists, are very small in number, and so there is no solution in sight on any mass scale.
The solution is solely that the nation of Israel listens to what the nations of the world want from them: to implement the unity that the nations of the world are crying out for behind all the surface anti-Israelism and anti-Semitism. We will then all live in peace.