Posted on
April 12th, 2015 at 8:28 am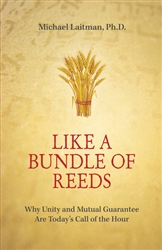 Like A Bundle of Reeds, Why Unity and Mutual Guarantee Are Today's Call of the Hour, Michael Laitman, Ph.D.
Chapter 10: Living In an Integrated World
An Integrated World Requires Integral Education
Our Privilege, Our Duty, Our Time
One last thing needs to be mentioned regarding education of adults, youths, and children. No form of Integral Education will succeed if it aims only to improve our material lives. While this is a desirable goal, it will not be achieved without a profound understanding that all of humanity is moving toward an era of interconnectedness and interdependence because this is the Law of Nature.
People do not need to call it "the Creator." There is no need for anyone to aspire to attain a higher, deeper, broader level of perception unless it is their will. However, people will have to know that equivalence of form, being like the Law of Nature, meaning interconnected, behooves us to adapt our way of life accordingly.
The ones who set the curriculum and design the study programs will have to be as just described, meaning Kabbalists. That said, Kabbalah studies will never be mandatory because only those who wish to transform themselves, to dedicate themselves to the service of others, and genuinely wish to acquire the quality of bestowal will devote themselves to this vocation.
Granted, such a social transformation is a hefty task. And yet, we Jews have been transformed before, and whether dormant or awake, the reminiscence of that transformation exists within us all. No other nation has been given the task of redeeming humanity, as have the Jews, and no other nation has been given the inherent tools to do so. It is our calling; it is our privilege; it is our duty; and it is our time.
It is out of that sense of commitment that the above suggested education method has been devised. It may sound like a rather unorthodox method, but its foundations are rooted deep within our history and deep within our souls, and its "tenets" have been tested successfully by other doctrines. It will succeed if we unite, and it will fail if we do not. As our sages said, "Great is the peace, for even when Israel idol-worship but there is peace among them, the Creator says, 'It is as though I cannot govern them because there is peace among them.'"[i]
I would like to end with a reference to the words of Baal HaSulam at the end of his "Introduction to the Book of Zohar." He concludes his introduction with a statement that if Israel should carry out their mission and bring happiness to the world through unity and acquisition of the quality of bestowal, the words of Prophet Isaiah will come true, and the nations shall join us and help us in our mission. As Baal HaSulam quotes, "Thus says the Lord God: 'Behold, I will lift up my hand to the nations, and set up my standard to the peoples: and they shall bring thy sons in their arms, and thy daughters shall be carried on their shoulders'" (Isaiah 49:22).
[i] Midrash Rabah, Beresheet (Genesis), Portion 38, Paragraph 6.