Posted on
March 30th, 2013 at 8:23 pm
Question: If the Light influences a person according to the root of his soul, where is my participation in this process and how do I determine its pace?
Answer: The Light that Reforms illuminates according to the state of the general system in which we are all integrally connected. We are all mutually incorporated in one another, and so I can't be disconnected from my generation, from time, place, and the general state. My state depends on others and their state depends upon me.
Besides, I can also advance individually, but my individual advancement is being incorporated in everyone. This means that I can't think only about myself. It's impossible in the framework of this system, and by that I will not help myself. If I pray only for myself, I cause myself harm, no matter how good my prayer may be. If it doesn't go through the group, it causes my soul harm.
So we should always remember that this is a general system in which we are all connected, all tied to and dependent on each other. Our work is namely to reveal this system.
My individual effort is focused on the revelation of the general. I don't reveal the place I am in, I reveal where the others are, the society. I don't discover myself, but rather the system in which my "self" disappears.
I on the next level am the one who feels his "self" less and who feels the society more. On a higher level there is a lesser feeling of my "self" and a greater feeling of the society.
So how can I pray for myself? In the next state, on the next level, it will not be me anymore! The society on the next level is "me." The current "self" disappears in the general system, and the system becomes me. This is actually what I feel and perceive as myself. I see it as my soul.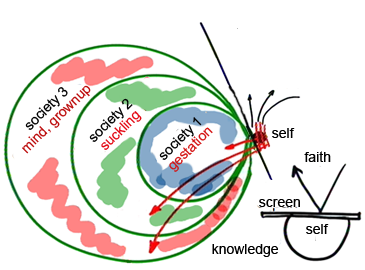 There is the point of my egoistic "self," and from it there are circles that spread as each time the circle and the society get bigger: society 1, society 2, and society 3. If I annul myself to some extent, I perceive the first one. Then I annul myself a bit more, and I perceive the second one; I continue to annul myself and I perceive the third one. These phases are called
Ibur
(gestation),
Yenika
(suckling), and
Mochin
(mind).
So who am I? I am what I identify with. If I am incorporated in the first society, then this will be my "self"; if I am incorporated in the second society, then this society will be me; and if I am incorporated in the third society, all this will be me. My current self disappears. This means that each time I build myself above my ego, above the Masach (screen), by faith above reason.
[103426]
From the 1st part of the Daily Kabbalah Lesson 3/20/13, "Matan Torah (The Giving of Torah)"
Related Material:
How Do I Copy The Image Of The Global Soul On Myself?
Judging The World To The Scale Of Merit
There Is No Room For Despair And Disappointment