Posted on
July 6th, 2021 at 8:40 am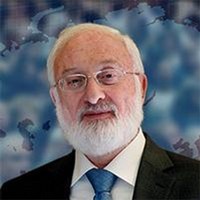 Michael Laitman, On Quora: "What will bring peace to Israel and the Middle East?"
Peace will come when we realize the method for correcting the human ego, which is running rampant in our day and age.
What does "correcting the ego" mean? It is the shift of our inborn egoistic attitude toward each other and nature, to an opposite altruistic attitude, where we wish to benefit others. Also, our ego's correction involves feeling how our happiness and fulfillment in life stems from our love, care and contribution to others.
Israel holds the method for correcting the ego. It first realized the method around 4,000 years ago when Abraham led a group of Babylonians, who had a desire to discover the meaning of life and reach peace among the divisions of that time, to a state of the ego's correction called "love your neighbor as yourself." It is a state where everyone meshes together in a single connection, through which the positive force dwelling in nature emerges.
Since Abraham's time, Israel lost contact with the positively-connected state it once had, and largely lost awareness of the method of correction that it once learned and implemented. In place of the connection Israel was supposed to attain at various times, antisemitism emerged as a negative goading force. As a natural phenomenon, the purpose of antisemitism is in order to pressure Israel to wake up to realizing the method of correction that it possesses. When it does so, peace will ensue not only in the Middle East, but in the world at large.
The method of correction has only recently started becoming disclosed in our current era. That is why people the world over have started taking interest in the wisdom of Kabbalah. Several kabbalists have pointed to our era as the one when there would emerge a growing need in humanity for this method, which has the power to reconcile differences, unite us above divisions, and shift the world's course to a positive direction. A positive direction is one where we prioritize benefiting others over self-benefit, and as a result, discover a state of perfection and peace both in the Middle East and throughout humanity. On the contrary, if Israel fail to wake up to the method of correction that they possess, then antisemitism will continue rising to overblown proportions, and they can expect terrible outcomes. Moreover, the threat of destruction would sweep over the world, as a third or even a fourth world war could become an unfortunate reality.
In essence, what is now happening in the Middle East is the hotbed of a global-scale problem. If we resolve this problem, if Israel wakes up to realize the method of the world's correction, then it will solve the world's problems, and peace will also come about in the Middle East.
Based on a Q&A with Kabbalist Dr. Michael Laitman on September 9, 2006. Written/edited by students of Kabbalist Dr. Michael Laitman.