Posted on
March 1st, 2015 at 8:36 am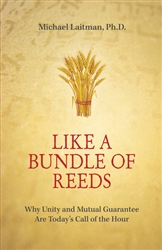 Like A Bundle of Reeds, Why Unity and Mutual Guarantee Are Today's Call of the Hour, Michael Laitman, Ph.D.
Chapter 3: Corrections Through the Ages
The Evolution of the Correction Method
A New Era, A New Approach
The Kabbalists kept their studies secret. In secret chambers they developed a correction method that would be suitable for everyone, whenever needed. In small groups, sometimes alone, they studied and attained, but kept what they had learned and wrote mostly to themselves.
But one day in the 16th century, a young man by the name of Isaac Luria came to the Kabbalist town of Safed in Northern Israel. His arrival marked the start of a new era in the evolution of the correction method. Through his prime student, Chaim Vital, Isaac Luria—known today as the Holy ARI—detailed a completely new approach to the wisdom of Kabbalah. His seemingly technical explanations of the structure of the spiritual system, and his systematic, precise descriptions gradually became the prevailing study method among Kabbalists.
The ARI's prime disciple, Rabbi Chaim Vital, diligently wrote what his teacher had dictated. After the passing of Rabbi Vital, his son began to publish those writings, the most notable of which are Tree of Life and Eight Gates. In time, those compositions became the foundation of today's predominant method of Kabbalah study, the Lurianic Kabbalah, named after Isaac Luria, the ARI.
Related Material:
Like A Bundle Of Reeds—Corrections Through The Ages, Part 4
Like A Bundle Of Reeds—Corrections Through The Ages, Part 3
Like A Bundle Of Reeds—Corrections Through The Ages, Part 2