Posted on
March 28th, 2015 at 7:26 pm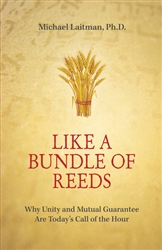 Like A Bundle of Reeds, Why Unity and Mutual Guarantee Are Today's Call of the Hour, Michael Laitman, Ph.D.
Chapter 9: Plurally Speaking
Affecting Social Cohesion Through the Social Environment
From Me, to We, to One
With our current knowledge of human nature, we cannot avoid this competitive and alienating attitude because it is coming from within us, a dictation of the fourth, speaking level of desire. We also cannot stop the evolution of desires, just as we cannot stop the evolution of the whole of Nature. Moreover, if we are to achieve the purpose of creation of becoming similar to the Creator, we will need a robust desire as the fuel thrusting us forward, which means that we must not diminish or oppress our desires, or we will not attain our life's goal.
And yet, not being able to stop the heightening of our self-centered desires does not mean we must yield to a trend of worsening human relations on all levels. Our society does not have to decline to a point where all we can do is to stock up on supplies, take cover, and lay low in wait for some miracle to save us from our fellow men and women.
In fact, even if we chose to try to shield ourselves, our nation's mournful history indicates, and the law of Nature dictates that the nations will not permit us to remain passive. When troubles ensue, it is guaranteed that the Jews will be blamed for it once more and consequently tormented, perhaps worse than ever. However, contrary to past ordeals, there is much we can do to prevent this from unfolding.